Jayden
is the primary antagonist of Forever Furious: The Movie. Jayden is the primary adversary of
Forever Furious: The Movie
.
History
Jayden was a regular kid and he had a loving father. However, he was heartbroken when his father died in the war. After several years, he went homicidal and threatened to destroy all those who tried to kill him. Eventually, he turned his sights on world domination. He was sent to prison for a total of 10 years and was freed afterwards.
During the film
When he was freed from prison, he vowed revenge, starting with the Power Rangers. He freed
Zurui
from his magical vase and the two fought along side each other. However, Jayden was defeated and Zurui drained his inner power, which caused him to die.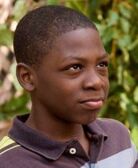 Personality
Although he seemed happy in his chilldhood years, he turned serious when his father died. He often has a grim face, which suggests his anger is never-ending.
Ad blocker interference detected!
Wikia is a free-to-use site that makes money from advertising. We have a modified experience for viewers using ad blockers

Wikia is not accessible if you've made further modifications. Remove the custom ad blocker rule(s) and the page will load as expected.