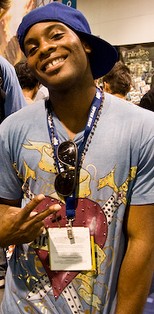 The Blue Ranger and Second in Command. He is the oldest and the most serious of the group. He always wanted to lead the rangers. So Dogulus put him as a blue ranger instead, though Kyle doesn't actually know that blue is second in command. After realizing that Red is the leader, he was kinda shocked. But he soon got used to being blue. Also, Cruger has a big surprise that was put into the blue ranger suit that would surprise him. He is portrayed by Kel Mitchell.
Appearances
Power Rangers: Level Up (crossover episode)
Appearance
Kyle looks like what he looked like in Kenan and Kel. In his first appearance, he wears a pilot suit. You'll always see him wearing blue shirts.
Ad blocker interference detected!
Wikia is a free-to-use site that makes money from advertising. We have a modified experience for viewers using ad blockers

Wikia is not accessible if you've made further modifications. Remove the custom ad blocker rule(s) and the page will load as expected.