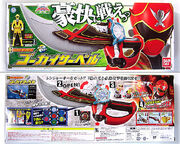 It is the the pirate rangers & Red Ranger X sword sidearm resembling a cutlass with a built-in grappling hook. It is able to utilize the Ranger Keys to activate a Final Wave attack after a Ranger Key is set into the hilt. Blue time pirate ranger and Yellow time pirate ranger will typically trade their Time pirate Guns with the other Time pirate ranger for dual Time pirate ranger.
Ad blocker interference detected!
Wikia is a free-to-use site that makes money from advertising. We have a modified experience for viewers using ad blockers

Wikia is not accessible if you've made further modifications. Remove the custom ad blocker rule(s) and the page will load as expected.