Power Rangers: Drive Force is a series created by Sonic Flash. It contains a few elements from Power Rangers Operation Overdrive as well as other official Power Rangers series. 
Plot
In the not-so-distant year 2020, a sinister criminal named Dr. Jack, in order to gain power and to rule the world, recreates himself as a humanoid robotic cyborg named Kilobyte using the energy of a great power source, a great discovery of his own, the trizerium crystals. He uses its power to program and create an army of robotic footsoldiers and robotic mutants. 
During the same time, a scientist at Newtech Laboratory named Dr. John Smith discovered an immensive energy source, the quantum trizerium crystal. The Newtech Laboratory secretly developed five immensely powerful tools that could harness the power of those crystals to stay prepared for any mishaps they intuited. Their intuition was quite right, for Kilobyte prepared his army to attack the planet. 
Dr. Smith then recruited five teenagers to harness the power of those trizerium crystal powered transformation devices known as morphers to transform into a brand new team of Power Rangers - they are the Power Rangers: Drive Force. They would later be joined by another crew member as the Mercury Ranger. Will the rangers be able to defeat the Protoxyrum army? This is yet an unsolved mystery... 
Characters
Rangers
Drive Force Red - Andrew Hartford
Drive Force Blue - Kevin "Ken" McAllistar
Drive Force Black - Flynn Scott
Drive Force Yellow - Emily Johnson
Drive Force Pink - Taylor Pattinson
Allies
Dr. John Smith
Conner Jonathan
Villains
Protoxyrum Army

Main Villains

Kilobyte (Terabyte)
Protobot 3000 (Ultimate Protobot 9000)

Generals

Frax
Venjix
Mach
Zorren
Lenovo 7

Footsoldiers

Cyclobots (Main)
Kilobyte
Megabyte 
Gigabots (Most Powerful)

Monsters

Tentacus
Argus
Haxor
Shorty
Centramax
Bugglesworth
Delex
Helix 
Noghlok
Xandred 
Broodwing
Green eyes
Hydrax
Katastros
Cybertron
Dax 527
Mavro
Mirloc
000
T-Top
Morgana 
Devastation
QWERTY 6.5
Arsenal
Transformation Devices
DriveMax Morpher
Mercury Morpher
Power Ups
Drive Force Battlizer
Drive Force Aquitizer
Red Sentinel Ranger
Turbo Jet Mode
Weapons
Drive Defender
Nitro Blaster/Sword
DriveMax Blaster

Rocket Blaster
Turbo Striker
Sonic Hammer
Zip Charger
Nitro Drill Blaster

Uranium Blaster

Drive Lance
Mercury Shotgun

Turbo Sword
Jet Blaster
Episodes
Start your Engines
Trivia
The series is named after Power Rangers Operation Overdrive's previously thought name. 
Rangers
| Color | Ranger | Actor |
| --- | --- | --- |
| Red | Louis | Michael Anthony Estes |
| Blue | Chase | Minh Nguyen |
| Green | Maurice | Jonny Foster |
| Yellow | Diego | Norbert Renegade Enigma Melendez |
| White | Rachel | Lindsay Campbell |
| | Bridget | MalaGuithaa Malaga Malagha |
| | Alex | Victor Meyer Christopher |
Allies
Arsenal
Drive Cells: morphers used by the Rangers
Drivezookas: primary weapons of all the rangers.
Morphing Call: "Drive for...Drive Force!"
Drive Battle Armor: Rangers upgrade armor
Zords
Drive Force Megazord
1993 Nissan 240 SX (forms head and upper torso)
2010 Dodge Ram 2500 (forms lower torso, thighs, upper legs, and chestplate)
2011 Chevrolet Camaro SS (forms lower right leg)
2008 Shelby Mustang GT500 (forms lower left leg)
1998 Acura Integra GSR (splits and forms arms)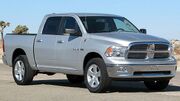 2003 Chevrolet Corvette Z06 (converts to warrior mode)
Mustang Cobra GT 500 (year unknown) (is extra battle gear)
Ad blocker interference detected!
Wikia is a free-to-use site that makes money from advertising. We have a modified experience for viewers using ad blockers

Wikia is not accessible if you've made further modifications. Remove the custom ad blocker rule(s) and the page will load as expected.