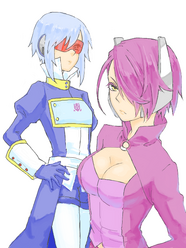 Shockwave Zero (or just Shockwave) is the daughter of Shockwave and her friend Soundwave Zero (or just Soundwave) the daughter of Soundwave in Power Rangers: Energo Zoids. This may comfirmed that Shadow saw her for the first time. Shockwave Zero is the secondary main enemy of Eureka who been unwillness.
History
She and Soundwave first appeared in Energo Zoids Episode 1 after Shadow saw her. She now full appearance in episode 14 and copy Eureka's voice much as Eureka's unwillness (like Mandy). In episode 15, Shockwave revealed has a jinchuriki like Samuel. She possess of the Stag Tailed Beast.
Triva
Like Mandy, Eureka unwillness at Shockwave. This revealed Super Sentai, GO-Battler is Shockwave and Soundwave will returned.
Unlike her predecessor, Soundwave is not have any opponent/rival.
Ad blocker interference detected!
Wikia is a free-to-use site that makes money from advertising. We have a modified experience for viewers using ad blockers

Wikia is not accessible if you've made further modifications. Remove the custom ad blocker rule(s) and the page will load as expected.